MORE THAN 50 YEARS OF HISTORY
The Delmon Group history started in 1965 in the electrical goods sector.
Delmon Group is able to provide you standard or specific solutions based on your technical specifications. This is possible thanks to its engineering laboratory department which have more than 30 years of experience in elastomers solutions.
In 2021, the willingness of Delmon Group is to be oriented customer satisfaction in order to strengthen customer relationship.
This is why the new policy called "Delmon Customer Focus" (DCF) will be launch this year.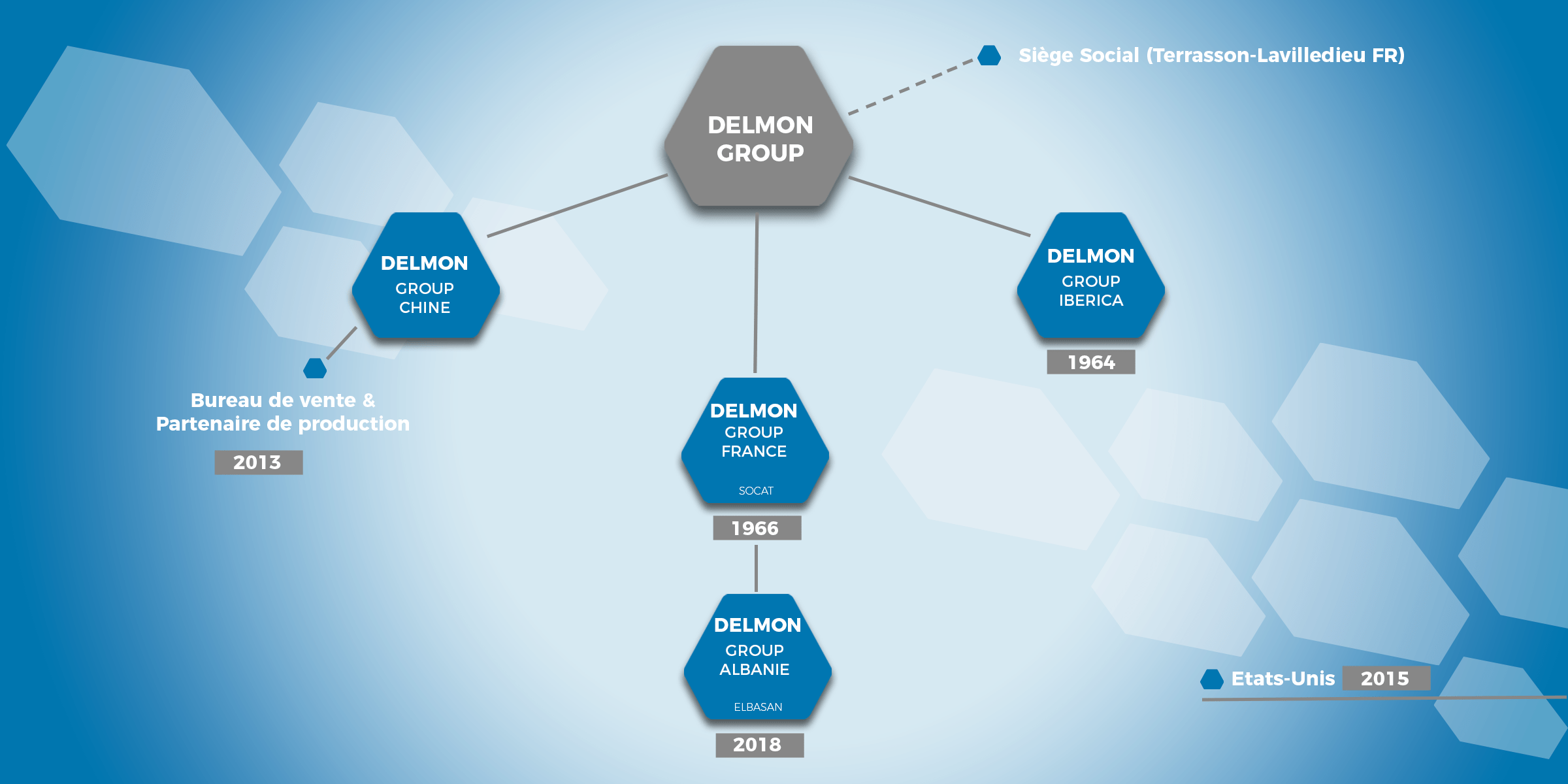 THE GROUP
2019
Delmon Group has developed a partnership with Space Aero with the aim of implementing the continuous improvement process.
2018
The group started a new manufacturing plant in Albania (located in Elbasan) in order to propose "bests costs" solutions.
2016
"Delmon Industrie" became Delmon Group after the takeover of the group by Sylvain Broux.
Several projects has been put in place :
Added value internalization,
Digitalization (New ERP),
Improvement of the supply chain,
New project management (DPM : Delmon Project Management),
Customer satisfaction (DCF: Delmon Customer Focus) in order to reach customer requirements
2014
Delmon Group started in China in order to proposes antivibration and sealing solutions for a Asian market.
2014
Delmon Group took over this plant Pamplona (Spain)
This activity is mainly dedicated on solutions for shaft activities (half shaft, steering shaft, propshaft) and other type of belows.
2013
The group received awards for its operational performances from Safran Group.
1998
Delmon Group took over this plant in Barcelona in Spain.
This plant is specialist in molding of specific rubber parts using elastomers (with low VOC emissions, sulfur-free EPDM).
1972
Creation of SOCAT automotive and AD&I activity (AEROSPACE, DEFENSE & INDUSTRY) plant of 11500 m².SOCAT AUTOMOTIVE: able to work in mass production organization. Process optimization is part of its strengths
Delmon Group can work with tier 1 or tier 2 position.
SOCAT AD&I : organization is designed for small and medium size production. Products are dedicated for Aerospace, Defense, Railway, Defense and Energy sectors.
1965
Pierre Delmon funded Delmon Industrie company and started to manufacturer its first components for automotive sector and electronical goods.